All around us both in our garden and in the forest, is an abundance of eatable wild herbs, flowers and plants. Many of these have fantastic nutritional value with medicinal properties. This ancient plant knowledge of medicinal herbs and how to utilise their healing properties will be explored during our upcoming workshop "Ayurvedic Herbal Medicine Workshop".
If you want to learn more about herbal medicine, book your spot to the event on Sunday the 13th of September from 12-14:30 here. Herbalist and ayurvedic specialist Justine Cederberg will be guiding you through the magical world of medical herbs and plants and the event will end with a wild herb inspired lunch at our studio.
This spring brought the perfect opportunity to spend more time outside and take time to explore the wonders of nature. The intelligence of nature is utterly fascinating and there are so many neglected plants out there with healing properties. I have absolutely loved diving deep into plant knowledge and traditional herbal medicine exploring how to best use them in the kitchen to benefit our health.
Below, I have selected 3 of my favourite wild plants and recipe ideas on what I have been making with them. PLEASE NOTE; there are some wild plants and herbs that can be harmful and other that shouldn't be eaten in big quantities, so make sure you do your research before venturing out in the forest. It is also important to pick them in suitable places away from roads with heavy traffic, pollution and other harmful environments.
3 WILD HERBS IN THE WELLNESS VIBES KITCHEN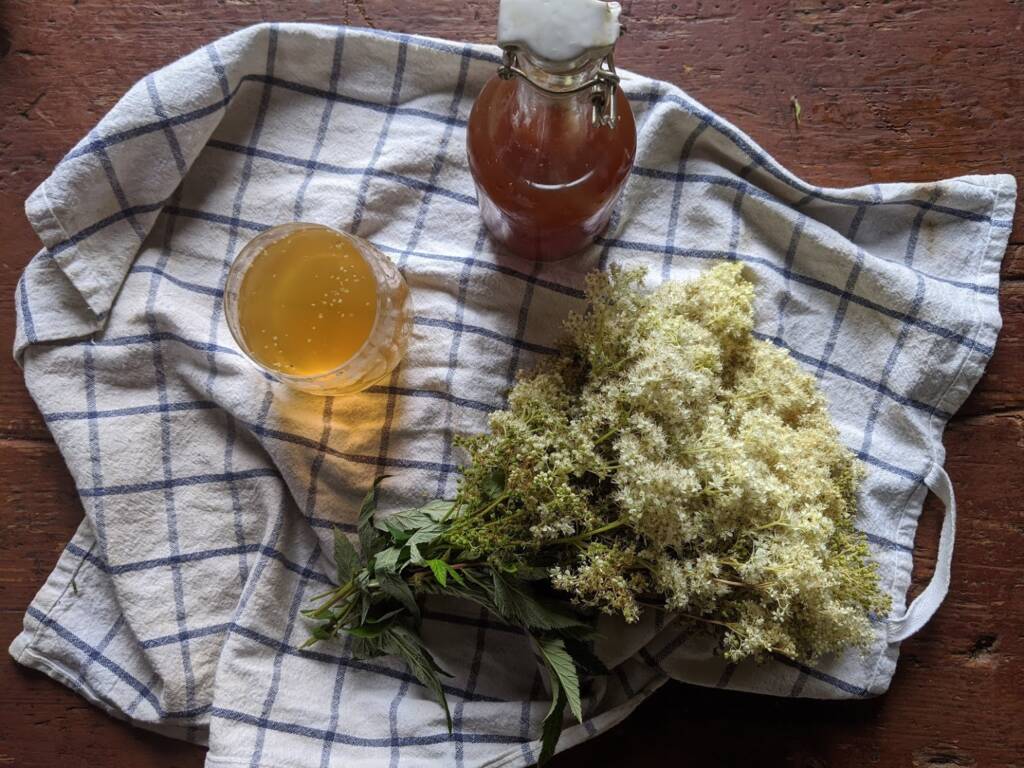 MEADOWSWEET (ÄLGGRÄS)
Filipendula Ulmaria
This beautiful creamy-white flower bloom from June to August and has a subtle sweet almond flavour. You find it in damp areas such as meadows, scrubs and ditches. Meadowsweet is an old medicinal herb that have been used to treat flue, headache and rheumatism. It contains salicylic acid which makes it an effective herb against inflammations. This is close to the salicylates substance used in Aspirin, however, the tannin and mucilage content in Meadowsweet make it much easier on the lining of the stomach. It can be used dried as tea, infused in sauces or desserts or to make cordial in similar way as elderflower. Meadowsweet and especially the leaves should be enjoyed in moderation.
Meadowsweet Cordial
Around 25 Meadowsweet flower heads
1 Organic lemons
1 litre water
4 dl whole cane sugar or 1 dl stevia
1 tbs citric acid
Remove any insects and extra stalks from the meadowsweet flower heads. Slice the lemon. Place these in large pot with lid.
Warm the water to boiling temperature, remove from stove and add sugar or stevia. Blend until the sugar has dissolved. Add the citric acid when the water has cooled.
Pour the sugary water over the meadowsweet flowers and lemon and leave in fridge for a few days mixing every now and then.
Filter the cordial and pour into bottles.
WHITE GOOSFOOT / PIGWEED (SVINMÅLLA)
Chenopodium album
For many, this is an unwanted weed in the garden that spreads like wildfire in newly planted flower and vegetable beds. However, its leaves and young shoots can be used as a vegetable. Another name for this plant is 'wild spinach' and can be used in the same way as the loved green leaf vegetable. White Goosfoot has a mild taste and the plants contain high levels of oxalic acid and should therefore be used in small quantities only and preferably be parboiled.
Pigweed Savoury Pancakes
100g pigsweed
3 eggs
5 dl oat milk
3 dl wholewheat flour
Pinch of salt
Oil or butter for frying
Finely chop the herb and parboil (pour boiling water over the herb in a strainer).
Mix the dough with the remaining ingredients and add the pigweed when most moisture has been removed.
Fry the savoury pancakes and serve with lingonberry jam.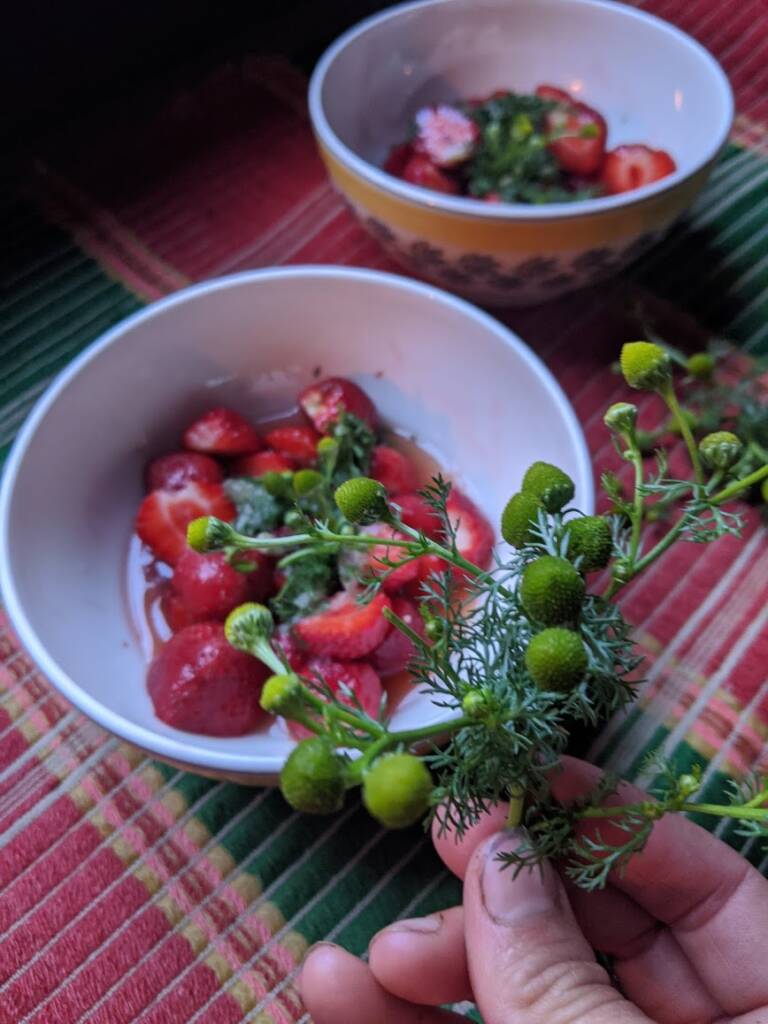 PINEAPPLEWEED (GATUKAMOMILL)
Matricaria Matricarioides
This wild herb has a very exotic and unique aroma and is wonderful to use in various desserts, salads or as dried in tea. As its name suggests, the flowers and leaves taste fruity with hints of pineapple, liquorice and chamomile.
Berries & Pineappleweed Summer Dessert
500g berries (I prefer strawberries and raspberries)
1 dl water
0.5 dl honey
Juice of 1 lemon
2 tbsp pineappleweed leaves and flowers
Bring water to boil, turn off and add honey and lemon juice.
Add the pineappleweed leaves and flowers to the water and allow to cool.
Place the halved strawberries or raspberries in a bowl and pour the pineappleweed honey water on top and let sit for 30 min before serving for more flavour.
This slightly tweaked recipe is from Sami Tallberg cookbook "Wild Herb Cookbook".
Other books and sites that have inspired me along the way:
'Wild Herb Cookbook' by Sami Tallberg
'Häxans trädgård : läkeväxter förr och nu' by Hella Nathorst-Böös
'Det Vilda Köket' by By Rune Kalf-Hansen, Lisen Sundgren
Wishing you lots of luck with your foraging adventures 🙂
Maxine